Did you know that you can now use artificial intelligence to organize your travel? Save time planning and discover the main attractions of the city that you will visit in a matter of seconds.
Still haven't used GPT chat? GPT Chat is a software created by the Open AI company based on artificial intelligence and trained to chat with you. It's free! You just have to create an account and start chatting.
From the Aerobús Blog we have put this chat into practice to help you find and organize your best destination for your next trip.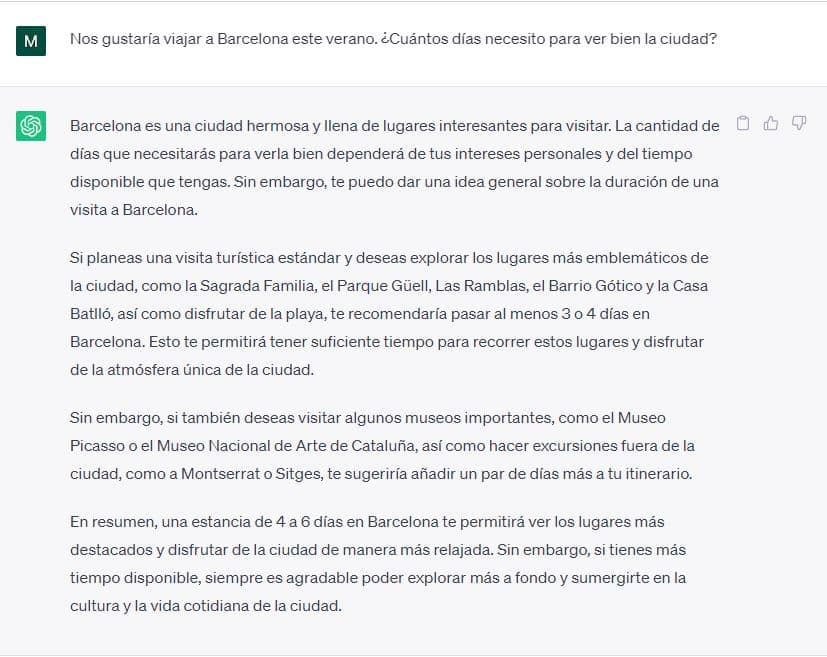 Ask about travel itinerary
Where do you want to go? In order to start chatting, you must guide them about the destination you have chosen and your interests. We have chosen the city of Barcelona and we have asked it how many days he recommends to see the city.
Now we must give you more details so that you can plan our travel itinerary. Many times it is difficult to know what to do in a city that you do not know. The ChatGPT shows you what to do every day with the most emblematic places in the city.
Ask everything that comes to mind
This technology allows you to make your trip more specific. It is possible to generate a route of tourist places close to each other, plan activities, guide you on where to stay, what to eat, etc.
Meals are always relevant. We have asked you which are the best restaurants around a point of interest to have a nearby and accessible option.
Also, remember to check the weather forecast before traveling and they will advise you on what to bring in your suitcase depending on the season of the year in which you are going to travel. You will see how in a second it will make you a personalized list of the essentials.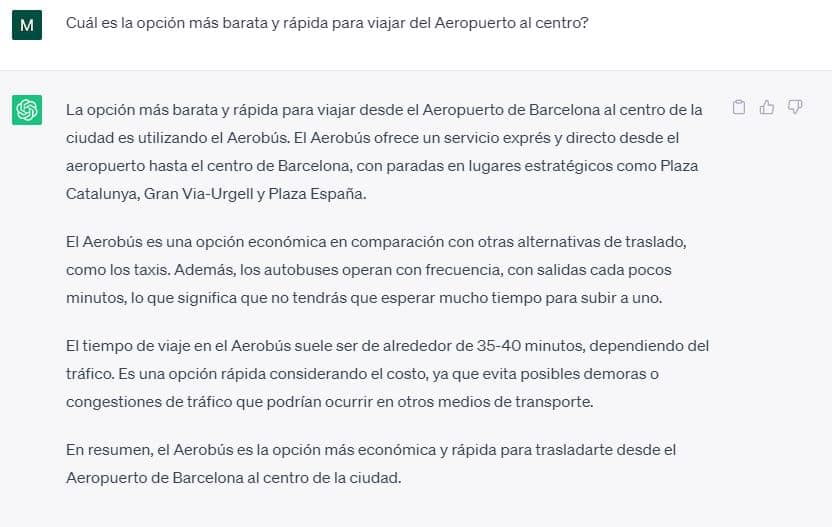 ChatGPT recommends Aerobús
Remember that the Aerobús is the cheapest and fastest option to get from Barcelona Airport to the city center. We do not say it, the GPT chat confirms it. Remember that Aerobús operates 24 hours a day, every day of the year.
What do you think? We are sure that this technology can help you as much as we do on your trip. You can always finish asking the last questions to outline your ideal trip.